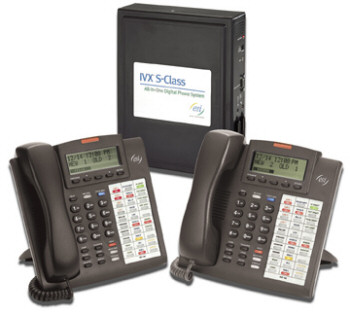 IVX S-Class KSU
( pictured with two 48-Key Phones )




ESI builds big-system features into the small-business IVX S-Class.

Equipped to grow to 16 phone lines, 32 digital stations, and eight analog stations, IVX S-Class gives your business a competitive edge.

Take just a few moments to learn how much an IVX system from ESI can do for your business.

Grows with your business
The IVX 72e has 70 call-processing ports, eight channels of voice mail, 140 hours of message storage, and support for up to 48 stations
The IVX 128e has 126 call-processing ports, 16 channels of voice mail, 280 hours of message storage, and support for up to 84 stations
Up to 28 fully functional analog ports
Up to 20 60-Key Expansion Consoles on IVX 128e (four on IVX 72e)
Powerful call handling
Enhanced Caller ID* allows one-touch automatic message return with ESI Feature Phones (supports basic Caller ID features on non-ESI analog phones)
Live call recording of any conversation (or personal memo); allows moving and copying recordings to others' mailboxes
Live call screening allows listening to an incoming message (as on a home answering machine); pick up call at any time or let it go to voice mail
Highest-grade voice quality (64 kilobit/second sampling) or voice mail and other voice storage
Call waiting with Caller ID
Missed Call Key™ shows who called without leaving a message so you can easily return the call or store the number for speed-dialing
Virtual Answer Key™ makes it easy to record custom greetings to handle select callers when they're in call waiting
Can support up to 16 conference callers (maximum of four persons in each conference)
Background announce
Trunk-to-trunk transfer
Eight music/message-on-hold tracks (includes three prerecorded tracks)
Dedicated overhead paging interface
QuickPage™ for rapid paging notification of held calls
ESI's Verbal User Guide™
HELP key provides instant assistance
Hundreds of informative, friendly prompts guide users, administrators and installers
Sophisticated voice mail
Up to 16 channels of built-in voice mail
Easily identified with blue VOICE MAIL key
Off-premises message delivery (cell phone or pager)
Urgent message notification
Multiple mailbox types, including group, broadcast, informational, cascade paging and Q & A
Message Recycle Bin remembers and can restore each mailbox's 10 most recently deleted messages
Quick Groups™ for easily moving a voice mail message to other user mailboxes
Quick Move™ for saving a message to other user mailboxes during call recording
Virtual Mailbox Key allows easy monitoring of additional mailboxes
Off-premises "reach-me" can let someone forwarded to a voice mailbox still reach the called party at a designated number
AutoPage™ makes it easier to page users over Feature Phone speakers (or, if connected, overhead paging system)
Automated attendant
Six levels, 100 branches
Virtually unlimited call routing, including off-premises transfer
Trunk-to-trunk transfer eliminates need for Centrex service to transfer calls off-premises
Automatic call distributor (ACD)
Routes calls within designated departments based on agent availability; maximizes customer call flow
Informative reporting
ESI Feature Phones
Different models give you max flexibility in handling varying needs
– 48-Key Feature Phone in Digital, Digital TAPI
– 24-Key Digital Feature Phone
– 12-Key Digital Feature Phone
Four position tilt and wall-mountable
Rugged design resists abuse, spills
Large, easy-to-read display
Built-in speakerphone
Dedicated feature keys (including a distinctive blue VOICE MAIL key)
Up to 30 programmable feature keys
Volume/scroll keys
Headset operation
Esi-Dex™ speed-dialing
– Three separate numbers lists:
Personal Dex, Station Dex and System Dex
(uses Caller ID* information or direct keypad entries)
– Location Dex shows your Esi-Link and remote station locations
(when applicable)
– Feature Dex quickly programs programmable feature keys
Shared-office tenanting
Two tenants
Assignment of CO lines for best use by tenants
Each station and ACD department can be assigned to one tenant
Auto attendant can have different greetings, day/night settings, and routing to specific locations - just as if each tenant had its own system
Separate operator position for each tenant
Optional VIP™ software for Windows®
Visually Integrated Phone
On-screen interface for taking and making calls with all ESI features associated with normal Feature Phone use, as well as programming your Feature Phone
Lets you manage both voice mail messages and e-mail from within a single Microsoft® Outlook® 2000/2002/2003 Inbox
Provides .WAV files of voice mail messages
TAPI support (Basic Telephony Service) for use with not only Outlook but also other TAPI-compliant software, such as ACT!® and GoldMine®, to provide outbound dialing, "screen pops," and more
Multiple high-capacity options
Optional Digital Line Card supports both T1 and ISDN PRI
Other features
Call reports (including ACD), SMDR
Local or remote diagnostics and maintenance
Automatic clock setting — synchronized with Caller ID